Cricket bat, needless to say, an elite weapon made for cricket batsmen so that they can ignite like a blaze on the ground. But it's an off-putting task when it comes to selecting the excellent one, especially in such a trial & error game! Size, weight, pick up, level, intention are the few things that matter the most while picking up good cricket bats. Reliable & best cricket bats help to ameliorate the skills of the batsmen making them being top in the game. There are many factors involved in choosing a cricket bat. Let's help you out in selecting a prefect & best cricket bat as per your personality, level, and skill type.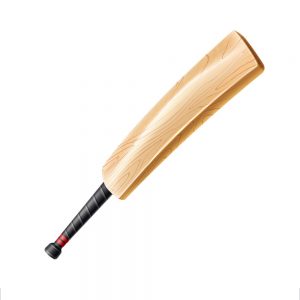 "Willow" of the Wooden Cricket Bat:
Standard cricket bats are made of either Kashmir willow or English willow. These two distinctive cricket bat woods encompass their own appearances, quality, grade & grains. English cleft is much lighter & lasts long than Kashmir one but also way expensive; also considered to be the best cricket bat for leather ball. Cricket bat prices are also a major factor in the selection of wood quality. Based on the circumstances, requirements, budget, and playing skills, players do prefer one of these two bats.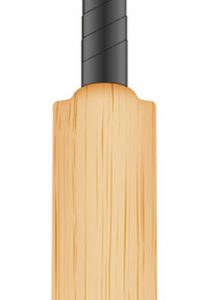 "Grade & Grains" of All Cricket Bat:
It's legitimate that every cricket bat does not retain the same quality even if it is made from the same cleft. For finding the best out of bests, cricket bat grains & grades are the major keys that have to be taken into account. Whether the wood used in making the cricket bat is English or Kashmir, both (grade & grains) decides the wood quality, reliability, and durability. Generally, there are 5 grades that bats are made with and each grade contains a certain range of grains demonstrating the quality, durability and of course the performance. Undoubtedly, expensive bats are made of grade 1 – reliable for delivering outstanding performance. You can clearly observe 7-12 straight grains on the blade of a grade 1 cricket bats; it means no blemish on the bat face. Grade 2 is also similar to grade 1 in terms of quality and durability. Only the factor that differs between both the grades is the small blemish obtainable at grade 2 cleft. The other grades – 3, 4, 5 can also be used by a batsman depending on his/her budget
& the level of the game. Quality of all grades can easily be compared based on straightness & number of grains. Logic is very ideal – "More Grains + Straight Grains = quality cricket bat." However, to capitalize on the performance, you should also be realistic with your expectations and the level of your playing. Even a bat of grade 4 or 5 can streamline your performance, especially in county & club matches.
A rough chart may clear up your mind while selecting the grade of a cricket bat:
| | |
| --- | --- |
| Grades | Differences |
| Grade 1 | Clear straight grains (8-12), Robust yet expensive wood, no blemish on the bat face, light weight cricket bat. |
| Grade 2 | Excellent quality wood, little red evidence on wood, similar to grade 1, 6-10 straight grains. |
| Grade 3 | 5 straight grains, mostly used bat, require knock in, a slight blemish on the bat face |
| Grade 4 | 4 grains approx., half-blade stain, need proper knock in & oiling |
| Grade 5 | Available at a cheaper rate, require complete knock in & oiling, a large blemish on the bat face. |
Size of Cricket Bats: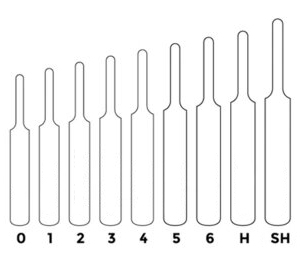 Different sizes are available in cricket bat – it's the player's height & style that matters the most in choosing the correct sized bat. Even sometimes the most expensive cricket bat in the world does not provide the best result if its size is not perfect. A real cricket bat is one that suits better in hand and gives unrivalled comfort. People usually end up spending their money on selecting the wrong sized cricket bat. The primary consideration should be the height of a batsman & then the batting style. When we consider the cricket bat lengths, sizes 0 to 5 are the cricket bat for kids & young players who have just started their careers. These can be considered into the junior cricket bat categories. Professional & matured cricket batsmen go for choosing the size 6, harrow, short or long handle cricket bat. A short handle cricket bat is made for a batsman who stands at the height between 5.6" to 6.2". Long handle cricket bat or the harrow bat is ideally suitable for men of height 6.1" or above. Although only a height alone cannot decide the size. There are many other complex factors involved in choosing the correct size of a bat such as batting style & mode of the game and the age group. Check out the complete Cricket Bat size chart to match-up with your height, age group & style. Remember that cost of cricket bat also depends on size.
"A perfect sized bat makes the batsman stay balanced and focused on the game."
Weight of Cricket Bat:
Besides the cricket bat lengths, weight is also considered to be a big factor in selecting the right cricket bat. Choosing the cricket bat weight is somehow a difficult task and no one can exactly tell you the precise figure. However, cricket bat size and weight must be parallel to each other and as per the comfortability of the player for sure. For instance, if a batsman is using the heaviest cricket bat of size harrow or long to hit the ball hard but is unable to generate power or matchup with the timing, it would drastically affect the game of that batsman. Whereas, a light weight cricket bat is easier to handle and swing fast but also weakens quickly than the heavier bats. These two uncertainties over cricket bat weight make the batsman's mind more indecisive and complex.
The best possible way to choose the absolute weight of cricket bat is only possible when a batsman knows his/her strength & power. So, based on the comfortability, you should decide which cricket bat suits you better in terms of weight apart from choosing sizes like a harrow cricket bat or the short handle. Better cricket bat weight enables a batsman to play more aggressively and attentively.
For general information, the average weight of cricket bat ranges from 800 gm to 1500gm (approx.). Light weight bats are around 800-1100gm whereas the heavy cricket bat ranges between 1200 to 1500 gm. Choose the bat weight that makes you feel comfortable & relaxed.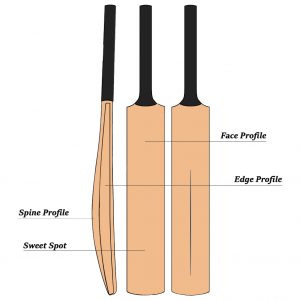 Select a Perfect Shape:
A good cricket bat selector, a batman, is one who looks into the shape of a cricket bat based on his/her skill level rather than picking up the leather bat price or brand as a priority. The edge profile, sweet spot, spine profile, face profile, and so on are, indeed, a few things that define the shape of the cricket bat. Don't know what these terms mean. Let's check it out:
Edge Profile:
Edges are the sides given from shoulder and it maximizes at the sweet spot, propagating balance and power with an extended sweet spot that overlays the complete blade width. Big edge cricket bats are considered as best in terms of selection.
Sweet Spot:
The thicker part given on the blade which delivers great power on the least effort. Sweet spots are ideally categorized into 3 parts – low profile, mid-profile, & high profile and these are positioned on the blade explicitly.
Spine Profile:
given at the back of cricket bat – forming a massive apex, with the unmatchable amount of power. High spine is ideally perfect.
Face profile:
There are two face profiles indeed and can be chosen as per batsman's choice:
Flat Face: capitalize on the power profile and permits more mass to be reserved at the back.
Curved Face: a curve shape at the bottom of the cricket bat.
"Pitches don't offer much but the cricket bat profile does"
Ball Type: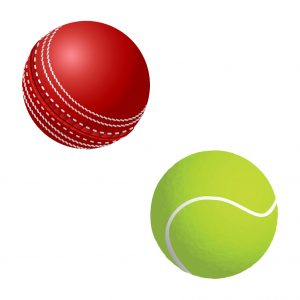 There are various balls used in cricket games like leather, rubber, plastic, tennis. It depends on which format or ball type you are going to play with. A hard tennis ball cricket bat is ideally perfect when you are selecting the tennis ball. For leather or rubber ball, it's better to use a leather ball cricket bat.
Also Read: How to choose Cricket Ball?
Cricket Bat Handle:
Bat Handle is precisely fixed to the body of the bat through a wood-working joint termed a splice, basically a V-shaped bung. Either Sarawak canes or Singapuri canes are used in the handle along with cork, rubber, or combination of both and inserted in the sawn center and pasted collectively. Then they are placed into a lathe machine and turned into basic shapes like oval handle and round handle. Based on your suitability, choose the handle of the cricket bat that suits you.
Other Factors Involved In Choosing Best Cricket Bat:
Apart from all the above requirements, you need to focus on some other personal factors while choosing the best cricket bat.
Types of Cricket Bats:
Generally, there are 5 types of cricket bat available in the market; hard tennis cricket bat, softball bats, cricket training bats, English & Kashmir Willow. Depending upon your game priority, you can select any. Even you can use the custom cricket bat as per your suitability.
Choice of Play:
Cricket bat prices vary depending on the player's height, skill, and of course the quality of cleft. But, generally, it's your personal choice when it comes to choosing the good cricket bats. For instance, if you are likely to play a big tournament like international, you must go for a premium quality bat rather than selecting cheap cricket bats. A high quality cricket bat price or the branded cricket bat may be little more than your expectation but the result you will get from it will be satisfactory for sure. But, for instance, again, if you want to gift a cricket bat to your young kid who has just started his/her career, choosing a low budget cricket bats price would also be effective. It's totally a personal view. If you just want to give just for fun, go for a plastic cricket bat as it is cheaper than the leather bat price.
Budget – Low Price Bat or More Expensive Bat: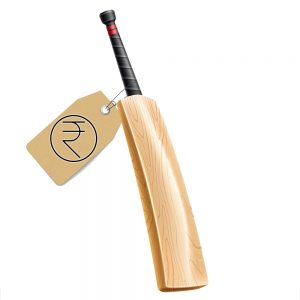 Setting a budget should always be a priority for every player while purchasing a cricket bat. It is not deceptive to say that all the above priorities such as weight, size, grade are the secondary options – the budget or can say the price of cricket bat comes first. Analyze yourself, how much you can afford on a cricket bat as per your budget and playing level. If you are a dues player, go for a leather cricket bat which can be affordable. If you're a gully player, select the best tennis cricket bat which is under budget. Set a budget first and then proceed with buying a pocket-friendly cricket bat. Hopefully, you would have now taken the right decision in picking up the perfect yet best cricket bats that suits your personality, budget, and playing skills. It is also necessary to take care of your cricket bat after making it yours. Even the good cricket bats get damaged due to reckless care. Have more information & knowledge about "Cricket Bat Care" also.